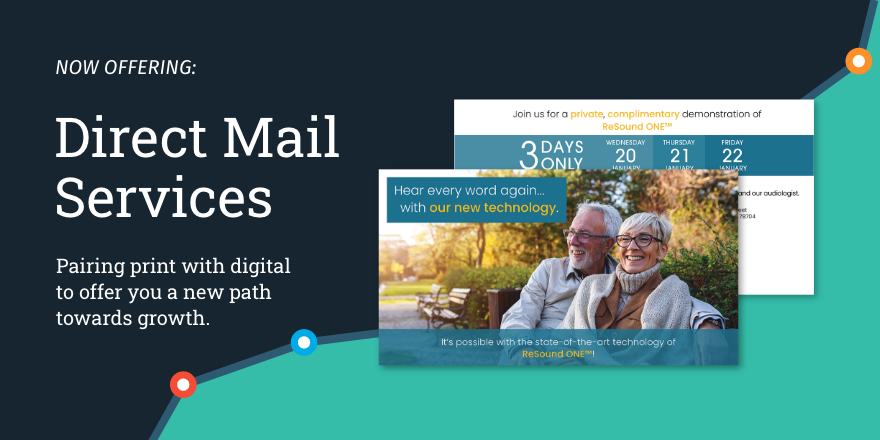 Cincinnati, Ohio (March 1, 2021) – AudiologyDesign, the leading digital marketing provider for the hearing healthcare profession, is adding direct mail marketing services – enhancing their capabilities to positively influence the patient journey for Audiology and hearing aid clinics.
Direct mail services will complement and integrate with AudiologyDesign's array of digital marketing tactics to increase quality patient leads and appointments."For too long, hearing aid clinic owners have used separate digital and direct mail companies that don't communicate," said Paul Dybala, AudiologyDesign's Vice President of Strategy. "Now, a hearing aid clinic can maximize their return on investment by having all their marketing needs executed, integrated, and measured under one roof."
AudiologyDesign has hired direct mail industry experts Kelly Clark, Direct Mail Advisor, and Kira Hudson, Direct Mail Manager who have a combined 30 years of experience in Direct Mail marketing in the hearing healthcare industry.
"Kelly and Kira provide AudiologyDesign the ability to hit the ground running," said Dybala. "Their combined expertise and industry relationships provide our clients tremendous peace of mind and confidence in the results."
Industry studies have shown that it takes 7-13 touchpoints for a practice to make a lasting impression on potential patients. The expansion of direct mail marketing services in their product mix allows AudiologyDesign to provide an additional touchpoint for their clients to have with patients and increases the conversion of new bookable hearing aid appointments and hearing aid products sold.
Direct mail services integrate with AudiologyDesign's proprietary dashboard which provides its users the ability to track both digital and print marketing efforts within one system. From prospecting to booked appointments, the dashboard tracks real-time data for total calls, qualified leads, and appointments for all campaigns.
About: AudiologyDesign is the leading independently-owned, marketing agency specializing in the hearing healthcare industry. AudiologyDesign is focused on maximizing its clients' presence, reputation, and authority while building engagement and converting quality leads to new hearing aid appointments. Direct Mail recommendations depend on the individual goals of each practice.
For more information, visit www.audiologydesign.com/directmail