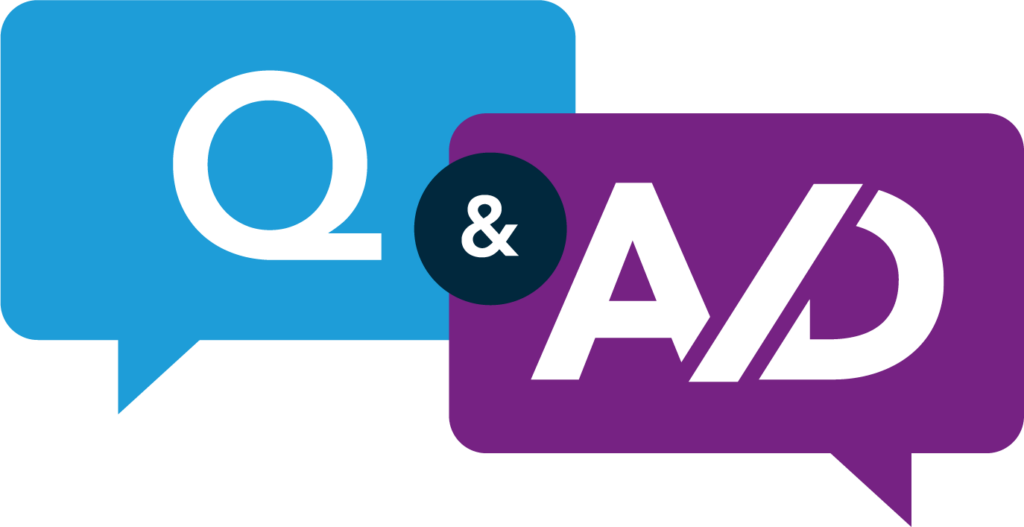 Have a Question?
We're always looking for new ways to help hearing professionals better understand the marketing world.
Most of my patients are older. I doubt many of them use social media or care that much about Facebook. Is there any real value in maintaining a Facebook page for my practice?
Contrary to popular belief, many older adults spend a decent amount of time online engaging with social media. In fact, they are one of the fastest-growing demographics on the platform. According to data from Statista Research, 78% of people over age 56 are active on Facebook.

No matter how someone discovers your clinic (whether through referral, online searches, etc.) they will likely check out your social media pages during their research process. If your pages are outdated (or non-existent), this may negatively impact a patient's perception of you or even give the impression that you aren't in business.

This means a Facebook Business Page is essential if you own a hearing clinic. With 1.82 billion daily active users, Facebook can be an invaluable tool for engaging with your patients and keeping your practice top of mind. A Business Page can also ensure prospective patients see you as an active authority in your local area.
I have heard that I should start shifting more of my marketing budget toward digital initiatives. Most of my patients are online these days, so I didn't think direct mail was worth the investment. Do you still find print mailers to be a profitable way to market?
We get this question all the time, and the answer is yes! Direct mail is an incredibly valuable tool for hearing professionals, and we recently added it to our suite of services for that reason. We've seen time and again that despite living in a digital world, direct mail marketing remains more relevant than ever. 

We have the stats to back up our reasoning:

On average, conversion rates are 52% higher when direct mail is paired with digital marketing.
39% of patients decide to try a business for the 1st time because of a direct mail piece.
60% of Americans say they enjoy receiving physical mail to their homes.

When thinking about marketing strategy, it's important to understand the benefit of reaching patients across multiple channels, both digitally and with print. Combining direct mail with your digital strategy will certainly lead to high returns with new appointments and units sold.
 Do your prospective patients actually read online reviews? Why do I need to collect online reviews? My demographic is not online as much and I don't think they rely on reviews to make decisions for healthcare providers. Most of my patients don't even have a Google or Facebook account to leave reviews.
Social proof is necessary for building trust in your practice and online reviews are "digital word-of-mouth." According to data collected by BrightLocal, 88% of consumers say they trust online reviews as much as an in-person referral. Online reviews are essential to connecting patients to your practice, and that includes adults 55+!

Last week, we mentioned that this group is one of the fastest-growing demographics on Facebook (approximately 78% of people over age 56 are on the platform). In general, Baby Boomers are online now more than ever before, and they will absolutely check for reviews when conducting research on your practice. If your reviews are limited or overly negative, this could impact a patient's decision to trust their healthcare to your practice. In fact, research collected by WebsiteBuilderExpert says that 48% of Boomers prefer a 4-star rating in order to place their trust in a business.

Luckily, we offer automated review generation services that make building a positive online reputation easy. This system helps automate the process of acquiring new, positive reviews for your practice so you can stay focused on delivering exceptional care. Our clients have seen anywhere from a 10-40% response rate from patients they've served. If a patient doesn't have a Google or Facebook account, we provide options for them to leave a review right on your website.
Can campaign reporting and analytics help ensure ROI? I've tried digital marketing campaigns in the past with other companies. Overall, it seemed to be a waste of my time and money. How can I be sure I get a good return on my investment?
As a busy hearing healthcare professional, you deserve peace of mind knowing that your marketing dollars are being well spent. With the ever-changing nature of digital marketing, campaigns must be monitored, tested and improved as needed to ensure a strong return.

At AD, we continuously track the performance of your initiatives, making changes where necessary to keep pace with industry best practices. Most of our services come with access to our proprietary analytics dashboard: an all-in-one place to track insights, data and leads from your website and marketing initiatives. 

Our dashboard doesn't just measure calls and clicks, it gets down into the details about your leads. You'll know who called, how they found you and if they booked an appointment, so you can get clear insights into your return on investment. We also offer a ticketing system that allows you to reach out for support from our account management team in real-time. You'll never have to wonder who to reach out to or how to contact them.

No matter your marketing goals, our mission is to ensure your campaigns drive results so you can focus on what matters most: patient care. If you're ready to take your marketing to the next level, our experts are here to help.
If Facebook provides the option to boost posts to new audiences, why would I need to run Facebook Ads?
Boosted posts can be a quick and relatively easy way to get your content in front of new patient audiences. When you boost a Facebook post, you're given a limited range of targeting options and are able to set a specific budget for the life of your campaign.

Boosted posts are helpful for raising brand awareness but they aren't as effective at turning your investment into conversions. If your goal is to drive more traffic to your website and capture quality patient leads, Facebook Ads is the better tool. 

Facebook Ads allow you to fully maximize the platform and deliver the best results for your campaigns. The Facebook Ad Manager provides a rich set of tools and customizations and allows access to ad formats most useful for hearing clinics. While they are more complicated to build and maintain, Facebook Ads provide more precise targeting and ROI than a boosted post. 

Additionally, Facebook Ads are not a "set-it-and-forget-it" tool. They tend to require some tracking and adjustments to achieve the best results. When we run Facebook Ad campaigns for our clients, we consistently monitor, test and analyze performance to ensure they receive quality leads and a strong return on your investment.
My competitor also works with AD. What happens in this scenario and is there any conflict of interest?
Fortunately, this isn't an issue with most of our marketing services! We can work with multiple practices in the same area without conflict of interest, but we do also offer exclusivity where needed. Our goal behind any marketing strategy is to ensure our clients are competitive in their market, and to achieve this, we tailor our stand-alone marketing services for each of our client's unique needs.

We DO offer market exclusivity on Google advertising. This is because Google Ads is a pay-per-click (PPC) system and we would never want to bid two clients within the same radius against each other, ultimately raising both clients' costs. 

However, organic tactics like Website and SEO operate a bit differently. Exclusivity cannot be guaranteed due to the complexity of the search market, the number of different search terms and optimization strategies available, and the fact that Google determines rank based on over 200 factors. With organic search, practices can target whichever search terms enhance their chances of improving their rankings. To stay as competitive as possible in this environment, we aim to find search terms that are specific to our client's unique offerings and services.
I don't sell OTC hearing aids. Do I really need to include OTC information on my website?
It's a great idea to have information about OTC hearing aids on your website, whether or not you actually sell them! Timely, relevant content is vital to the success of your digital strategy, and OTC hearing aids are still a hot topic due to the FDA ruling in August. As OTCs become more mainstream, patients will continue to seek more information about them online. From an SEO perspective, it helps to have content on your website relevant to search trends.

Additionally, the buzz around OTC hearing aids is an opportunity to open a dialogue with patients about the pros and cons. Your website can provide education on OTC devices while also showing that seeing a professional is still the best choice for managing hearing loss. The more information you can provide your patients, the more you earn their trust and showcase yourself as an expert.

To help our clients take advantage of this timely topic, we've added a page about OTC hearing aids to our global content library! This page is designed to help current and prospective patients better understand the differences between OTC and prescription hearing aids. If you're a client interested in adding this to your website, please reach out to your account manager.