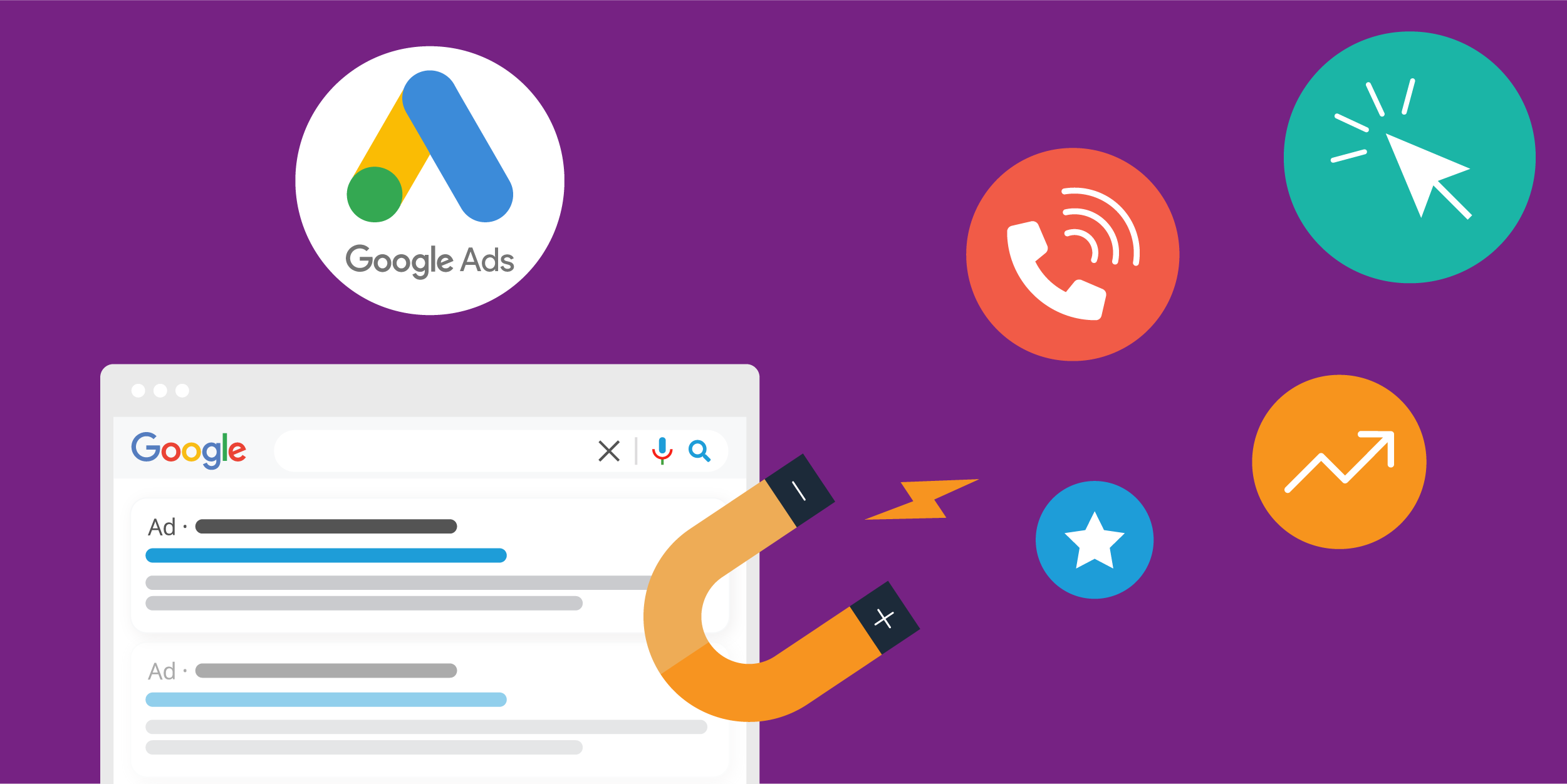 Paid advertising is a major aspect of digital marketing strategy, especially within the hearing industry. There are roughly 1.75 million hearing-related searches conducted monthly, and 73% of consumers turn to search engines to research healthcare and treatment. If you're looking to boost your practice's visibility and reach patients searching for your services, Google Search Ads is a great tool.
In this post, we'll explain the benefits of Google Search Ads and provide some tips for building successful campaigns. 
What Are Google Search Ads?
Search ads are advertisements that appear on search engine results pages. Google offers a "pay-per-click" (PPC) model, which means advertisers only pay when a user clicks on their ad. Advertisers can utilize the headline and description of a search ad to entice clicks.
Google Search Ads are built around search keywords, or the terms users type in the search bar when looking for a service or solution to their inquiry. Advertisers can target and bid on a list of keywords relevant to their services to ensure the right people see their ad. For example, if you are running a Google Search Ads campaign and target the keywords "best hearing aid provider near me," your ad could appear at the top of the search results with text that reads: "We Provide Hearing Aids & Services – Schedule An Appointment Today."
How Google Search Ads Can Benefit Your Hearing Practice
They're Flexible to Your Needs 
Google Search Ads put you in control of which services you promote, the schedule your ads run, how much you are willing to pay for each keyword bid and which locations your ads appear. This means you can adapt your ads to promote your services to different segments of your patient audience. Additionally, the flexibility on ad spend is helpful for hearing professionals with fixed marketing budgets.
They Meet Your Patients Where They Are
As mentioned above, nearly two million searches for hearing-related terms are conducted each month. Seeking information on Google Search is one of the first and most popular ways people learn about different products and services that interest them. Setting aside a budget for Google Ads gives you added visibility in front of these users and helps ensure your services reach the right people.
They Increase Your Brand Awareness
When done correctly, Google Search Ads can help raise your practice's brand awareness. Google Search Ads campaigns can reach people in every stage of the marketing funnel: from consideration to conversion. While ads should always be optimized for converting users, getting your practice's brand in front of more eyes helps build name recognition among your target audience.
4 Tips For a Successful Google Search Ads Campaign
Be Strategic About Ad Copy
Choosing the right message is key for creating ads that convert. Since search ads have limited text space, your ad copy should be concise, clear and persuasive. Craft your message with your target patient audience's needs in mind and present your services as a solution. Be sure to leverage your target keywords in your message as well.
Additionally, your ad should always include a strong call-to-action (CTA) that spells out the specific action your users should take. Your CTA should be action-oriented and consistent with what users will find when they click through.
Leverage Landing Pages
Even if you have optimized your ad for conversions, visitors may leave your site if they don't immediately find a solution to their needs. Landing pages allow you to quickly deliver on your ad's promises without reconfiguring the content on your main website. 
A well-managed account will rely on landing pages designed exclusively for Google Search Ads. These can be managed without additional web development support, which keeps costs low. Similar to your ad copy, the content on your landing page should be streamlined and contain clear CTAs. 
Refine Your Keyword Lists
Google Search Ads appear in search results when there is a match between the keywords an advertiser "bids" on and the words and phrases entered into the search bar. 
 Keywords and ads are part of an auction process that occurs every time someone searches on Google. It's crucial to set proper bid amounts for each keyword and ensure those keywords are relevant to your patient audience. Luckily, there are research tools available online (from both Google and other sources) that can help refine lists over time. 
Stay Consistent
As with most things marketing-related, consistency is key. Generally speaking, it is best to run Google Search Ads for a minimum of 3 months to allow new campaigns to reach their full potential. Testing and refining your message is an essential part of the process. The longer ads run, the more data you can collect to determine what resonates with your audience and what doesn't. 
The Bottom Line
With so many people turning to search engines to research healthcare, you want your practice to be a name patients recognize when they're ready to seek care. An effective Google Search campaign can help accomplish that goal.
If you're looking for guidance on PPC strategy for your practice, our experts are here to help! Book a free consultation with us here to learn more.