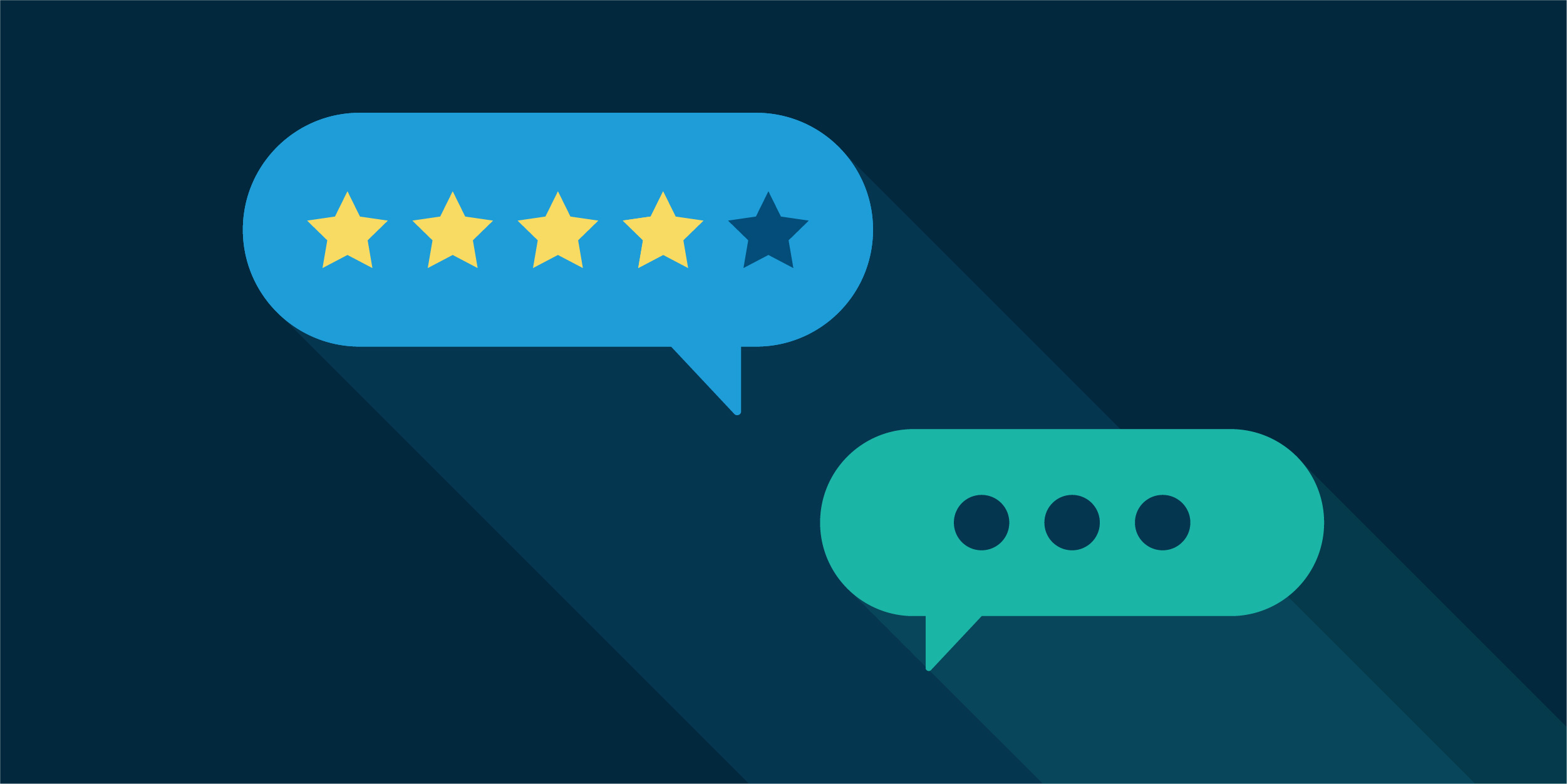 Online patient reviews are a critical piece of digital marketing. Collecting reviews helps improve your visibility and supports search engine optimization (SEO). Patient reviews allow you to see your practice from a fresh perspective and can help you glean valuable insights into ways to improve your services.
While reviews are great ways to gather feedback, navigating mixed or negative reviews can be tricky. In this post, we'll provide tips for responding to reviews (both positive and negative) and even share a few example responses!
Why You Should Respond to Both Positive and Negative Reviews
Responding to reviews is crucial for building trust and managing your online reputation. Replying directly to patients shows you care about their experience and helps foster loyalty and repeat customers.
Review responses are equally important to prospective patients. According to a Brightlocal survey, 97% of consumers read and consider how a business replies to reviews. Kind, professional and helpful responses share a glimpse of what a relationship with your practice will be like. Negative reviews are opportunities to show others how well you handle issues, which can help them see you positively despite the negative feedback.
Finally, responding to reviews benefits your online visibility. Search engines tend to favor practices that engage and interact with users, and online reviews are one of the most important factors when determining your ranking in search results.
How to Respond to Positive Patient Reviews
It's easy to overlook responses to positive reviews. After all, the patient is already happy with your service and singing your praises to others! However, taking the time to respond helps establish a personal connection and enhances patient loyalty.
Tips for Responding to Positive Reviews
Express gratitude:

Always thank the patient for taking the time to leave a review. A simple "Thank you for your feedback!" goes a long way.

Address the patient by name

: This adds a personal touch and shows that you're not just copying and pasting a generic response.

Invite them back:

Signing off your reply with "We look forward to seeing you at your next appointment" helps remind patients to choose you for future hearing care.

Share and celebrate praise for your staff

: If a review mentions a staff member, acknowledge them in your response: "I'll make sure to pass on your kind words to [Provider Name], she'll be thrilled to hear!" Sharing these reviews in team meetings or internal communications can also help boost team morale.
Example Responses to Positive Feedback
Example 1: Feedback for a specific provider
Patient Review:
"I had my first appointment at [Clinic Name] with [Provider Name] last week and was so impressed! She made me feel at ease throughout the process and took the time to explain everything in detail."
Response:
"Hi there, [Patient Name]. Thank you for taking the time to share your feedback! We're happy to hear about your experience with Dr. Smith. We will be sure to pass your kind words along. Ensuring our patients understand their hearing health is of utmost importance to us. We look forward to supporting you in the future."
Example 2: Feedback for office staff members
Patient Review:
"The front desk staff at [Clinic Name] are incredibly friendly and efficient. Made the whole experience a breeze. I felt like I was in great hands from start to finish."
Response:
"Thank you for the wonderful feedback, [Patient Name]. We believe a warm welcome sets the tone for a great visit, and we're delighted to hear that your experience reflected this. We appreciate your feedback and hope to see you again soon!"
Example 3: General feedback for the practice
Patient Review:
"I found [Clinic Name] after trying several other providers in the area. The others couldn't address my hearing condition, but [Provider Name] took the extra time to listen to my concerns during my evaluation and was able to suggest new solutions. I would recommend [Clinic Name] to anyone in need of hearing care."
Response:
"Hi [Patient Name]! We are so glad to hear [Provider Name] was able to find the best solution for your hearing needs, your feedback means a lot to us. We believe every case of hearing loss is unique and deserves an individualized approach. Thank you for choosing [Clinic Name], and if you ever have any questions or need further support, we're here for you!"
How to Respond to Negative or Mixed Feedback
As a hearing professional, you take pride in your work, and hearing that a patient had a bad experience is never fun. No matter how excellent your services and standards of care are, it's almost impossible to avoid an occasional bad review.
Try looking at negative reviews as opportunities to showcase your professionalism and problem-solving. As we mentioned earlier, addressing negative feedback can actually enhance your practice's reputation by demonstrating accountability and a commitment to improvement.
Tips for Responding to Negative or Mixed Reviews
Take a breath

: Before responding, take a moment to process the feedback objectively without becoming defensive. Remember, your response is not just to the patient who left the review but to all prospective patients reading the review.

Acknowledge their experience

: Even if you disagree, take ownership of the situation and empathize with the patient's experience and feelings. Avoid statements that deflect blame, like "We're sorry to hear that you felt this way."

Be brief

: Keep your response polite, concise and to the point. Lengthy replies can sometimes appear defensive to patients.

Take the conversation offline

: After addressing general concerns, provide a way for the patient to discuss their issue privately with your practice, such as a direct phone number or an email address. This is especially important if the complaint involves sensitive medical information.

Avoid cookie-cutter replies.

Patients can easily detect templated responses. Make sure your responses are personal and tailored to the specific feedback provided.

Express gratitude.

Thank the patient for taking the time to leave feedback, just like you would for a positive review. This shows that you value their perspective and are committed to improvement.
Example Responses to Negative or Mixed Feedback
Example 1: Mixed feedback
Patient Review:
"The hearing aids I received are now working well for me, but the adjustment period was longer than I expected. I wish I had been better prepared."
Response:
"Thank you for sharing your experience, [Patient Name]. It's good to know your hearing aids are working well, but we regret not setting clearer expectations during your visit. We will use your feedback to improve and provide better communication in the future. If you would like further guidance or support, please contact our office coordinator at [Phone Number or Email]."
Example 2: Frustration with wait time
Patient Review:
"[Clinic Name] did not respect my time whatsoever. I waited over 45 minutes past my appointment time and no one could give me a clear answer for the delay. Very frustrating."
Response:
"Hi [Patient Name], thank you for bringing this to our attention. We are so sorry about the wait. Your time is valuable and we're working on ways to improve our communication during delays. We'd appreciate the opportunity to discuss your experience further and ensure this doesn't happen again. Please feel free to contact our office coordinator directly at [Phone or Email]."
Example 3: Patient unhappy with hearing aids and service
Patient Review:
"The hearing aids I received didn't work well for me. [Provider Name] seemed inattentive during my appointment and I felt like my concerns were dismissed when I tried to address them."
Response:
"[Patient Name], we are sorry to hear your concerns were not addressed and that the hearing aids aren't meeting your needs. Our goal is to provide devices that improve patients' lives, and we'd like to make this right for you. Please reach out to [Office Staff Member/Coordinator Name] directly at [Phone or Email] so we can better understand your concerns and find a better solution."
The Bottom Line
Showing your practice is engaged and receptive to patient feedback, both positive and negative, greatly benefits your digital marketing strategy. Be mindful that despite your best efforts, some people will be unhappy over issues you can't control. Focus on showing appreciation to your loyal patients and staying receptive to constructive criticism.
If you utilize any of the templates above, make sure to tailor them to your practice's brand and patient audience. Personalizing responses based on the specific review will always appear more genuine and resonate more with readers.Would you like to save time and resources while building a positive reputation online? Our review generation services streamline the process of collecting patient feedback and integrate seamlessly with popular office management software. To learn more, book a free consultation with us here.