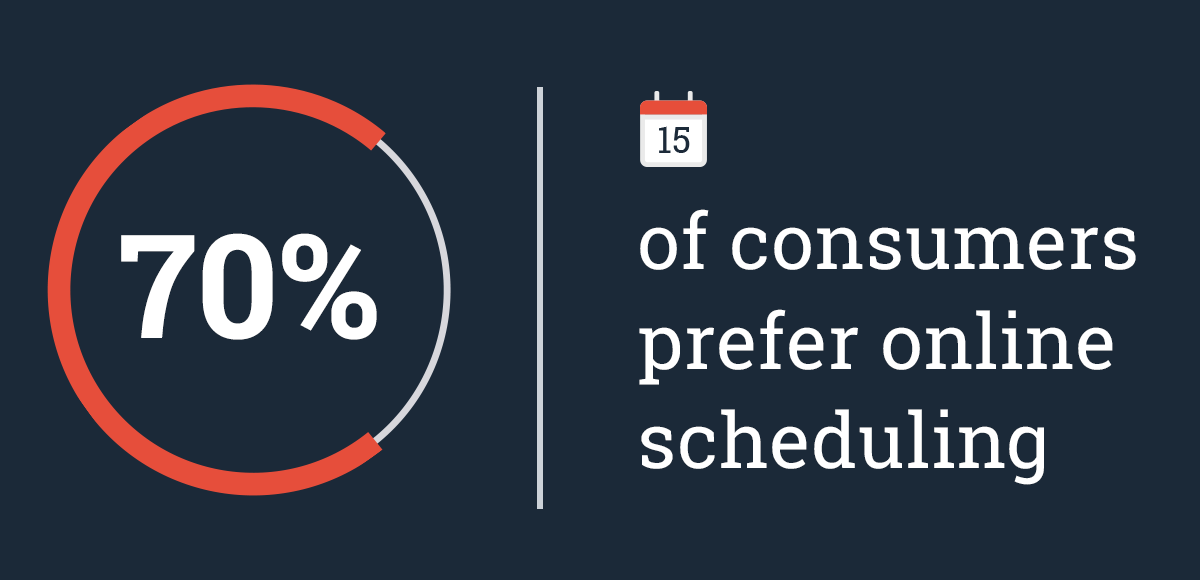 According to a recent GetApp survey, 70% of consumers prefer online scheduling for setting appointments. And it's not hard to imagine why — consumers are becoming increasingly reliant on the internet to meet all of their daily needs. With a few clicks you can order groceries, catch up on local news and book your next vacation, all in just 10 minutes!
Consumer reliance on digital resources can stem from simply being too busy, wanting the quickest solution to their question or, especially in our industry, wanting to avoid speaking on the telephone. Allowing your patients to book an appointment online will meet all of these underlying needs and provide them the best experience possible.
What Results Can I Expect from Online Booking?
Many of AudiologyDesign's clients are currently using online booking options on their websites. They're seeing an average of 4 appointments per location per month booked on the website. The best part? 45% of those appointments are booked outside of business hours, allowing these clinics to be always available to meet patient needs!
What Are the Benefits to Providing Online Booking Options?
Allows flexibility for patients to choose their preferred booking method, making it easier for the patient to walk through your door

Provides 24/7 access to scheduling so that you are always available to receive these important leads

By spending less time on the phone, online scheduling opens more time for your staff to focus on patient care in the office
Online appointment booking is also flexible. For the 21% of consumers preferring to book by phone, they still have the option to do so by simply clicking on your phone number!
How Do I Get Started?
AudiologyDesign has partnered with Office Management Software companies to provide solutions that are free to install on your website and integrate directly to your chosen OMS.
Don't use an OMS in your office? No problem! We can provide you a simple Book Now contact form at no cost, which will allow your patients to simulate the online booking experience without needing to access your office calendar.
---
Embracing changing consumer behavior by allowing your patients to book appointments online will provide the best possible experience for them, as well as save you time and energy! Contact us for more information today.