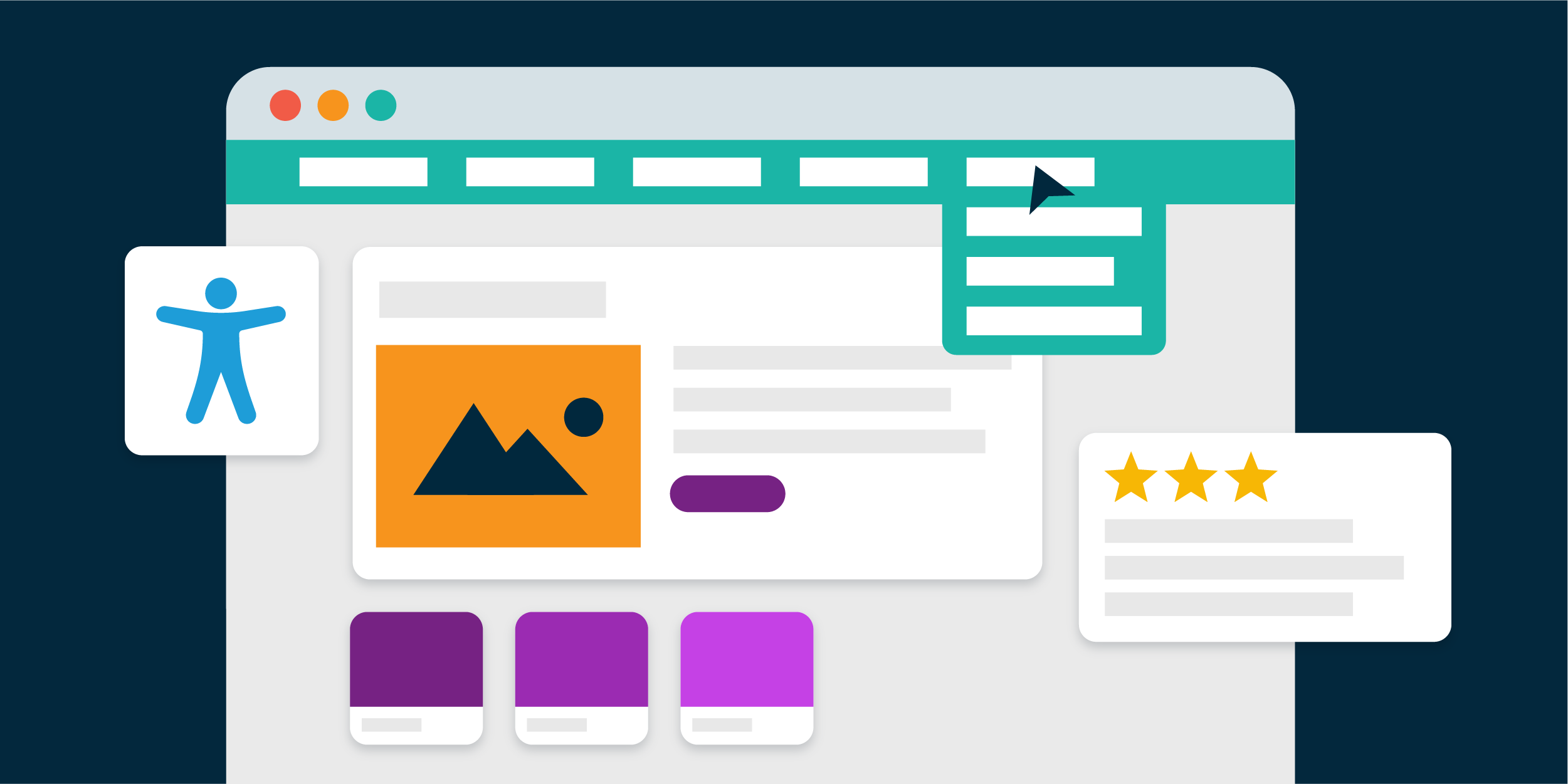 As a hearing healthcare professional, your primary goal is to help people. To help others effectively, you need to deliver a high-quality patient experience that builds trust in your practice and fosters a strong patient-provider relationship. This is equally important within your digital spaces as it is in person.
According to a survey of healthcare consumers conducted in 2020, 50% of people agreed that poor digital options could ruin their entire experience with a healthcare provider. A great online experience begins with a clean, easy-to-use website that puts patients' needs first. In this post, we'll cover some patient-friendly website features we prioritize when building hearing practice websites.
Five Patient-Friendly Features for Hearing Practice Websites
Simple, Easy-to-Navigate Design
A mistake we often see on practice websites is providers trying to convey too much information at once. Hearing healthcare is complex, and we understand that providers want to keep patients informed, but lengthy content blocks and too many menu options can negatively impact your website's bounce rate. 
A clean layout free of excessive text and clutter helps deliver a clear and concise message to your patient audience, which will drive better results. At AD, we encourage scannable homepage content that provides a high-level introduction to your practice. This avoids overwhelming website visitors and entices them to look deeper into your website for more information. While the navigation structure is flexible to each practice's needs, we aim to keep the menu to five-to-six options. This typically includes a page for services, products, resources, about, locations and a contact button. 
Website Accessibility
Following accessibility best practices ensures patients can navigate your website despite physical limitations or disabilities. While all websites should aim for high accessibility, it's especially important for hearing healthcare practices due to the patient demographics they typically serve. 
Our design strategy ensures website content is visually accessible, legible, and easy to read. We prioritize a high contrast ratio for text and buttons when choosing colors. If a client's existing branding doesn't meet accessibility guidelines, we can rework their color palette, typeface, font size, spacing and more to ensure easy readability for aging and disabled populations. 
Online Scheduling and Contact Forms
Online scheduling is an excellent feature that makes your website more patient-centric. Providing an option to schedule directly from your website offers patients more flexibility, meaning they don't need to rely on office hours or sit on hold when phone lines are busy to book appointments. 
An added benefit: online forms prompt site visitors to input their information directly, which helps generate active patient leads more likely to convert. We design forms that integrate with our proprietary analytics dashboard, which offers real-time lead tracking and valuable insights into website performance. We also provide integrations with Sycle and Blueprint, making it easy to track leads within your office management software. 
Reviews & Testimonials
Reviews are excellent for enhancing your online visibility, and they also help strengthen relationships with patients by providing social proof. Reviews share an unbiased perspective from other patients familiar with your services, which helps give your practice credibility. Including a page or section on your website dedicated to reviews provides easy access to outside perspectives and helps build trust. 
While it's nice to feature some of your best feedback throughout your website, including a page with an integrated platform that brings in reviews from outside your website is great for search engine optimization (SEO). This is because you can't simply "filter out" negative feedback, which helps add legitimacy to your website.
Patient-Friendly Blog Content
Despite the abundance of information online, it can be hard to find quality, trustworthy content when researching healthcare. Having helpful, patient-friendly blog posts and hearing health content on your website provides a valuable resource and can save patients time when looking for information. 
In addition to increasing engagement with patients, fresh blog content ensures your website receives updates on a regular basis. This is another great strategy for SEO, as Google tends to favor active sites with new, reliable information in search rankings.
The Bottom Line
Your website should be welcoming, easy to navigate and patient-friendly: a true reflection of your practice and the high standard of care you offer. Healthcare can be a sensitive subject, and a website that makes patients feel at ease tends to perform better overall. 
If you're ready to improve patient experience and drive more conversions with your website, our experts are here to help. To learn more about our services and website development packages, book a free consultation with us here.