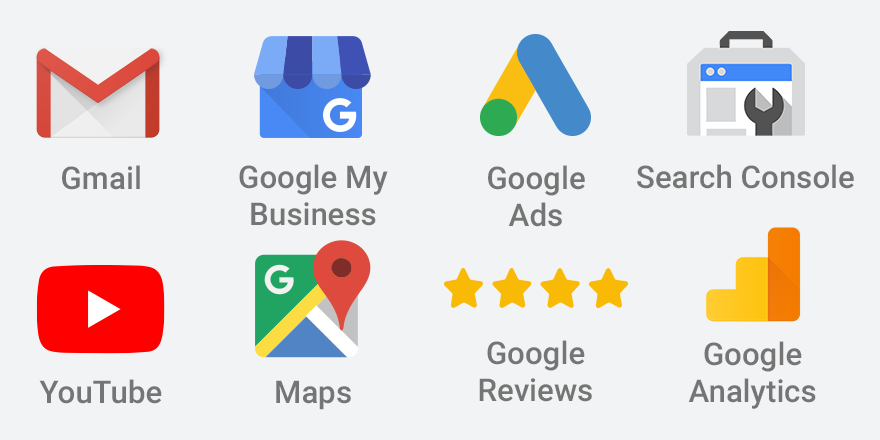 Google dominates the search market, with experts estimating that as much as 90% of all search traffic comes through Google's search engine. With that level of consumer adoption, Google has become increasingly important for hearing clinics looking for exposure online.
The search giant has many different tools, which can be confusing to try to navigate. Below we've included an explanation of what each tool is, and advice on which you should sign up for.
Google email (Gmail): Gmail can be a free or paid email service. We recommend signing up for a free Gmail account to use for the services below, which allows you to have one log-in across all Google tools. It should also be an email account that is not your personal account, so that you may share the log-in with trusted staff members as needed. An example might be "advancedhearing@gmail.com" rather than "jane.doe@gmail.com."
Sign up for a free Gmail account here
Google My Business and Google Maps: Google My Business is a free service for business owners, and should be the first thing you sign up for with your new Gmail account. The network launched in June 2014 as a way of giving business owners more control of what shows up in the search results and in Google Maps when someone searches a given business name. You can change your address, add your hours and more!
Read our article about how to claim your GMB listing
Google Reviews: Reviews on Google provide valuable information about your business to both you and your patients. Business reviews appear next to your listing in Maps and Search, and can help your business stand out on Google. The reviews can also help with your Google ranking! 
There's no need to sign up for a separate Google tool to use Google Reviews; you can respond to patients' reviews through Google My Business. Check your online review score here
Google Ads (Pay-Per-Click): Ads is Google's advertising system in which advertisers bid on certain keywords to enable their ads to appear in Google's search results. The term "pay-per-click" is how advertisers pay for this highly coveted ad space. While success varies in every industry, Google Ads has been found to be effective for hearing clinics looking to get in front of potential patients that are already searching for their product or service. AudiologyDesign offers this as an a la carte service.
YouTube: This video giant is also owned by Google. If you're planning to post videos online, this platform is a great way to do it. Make sure you sign up with the same business Gmail address discussed above, and label the public-facing YouTube account as the business name rather than your first and last name.
Google Analytics: Google Analytics is a web analytics service offered by Google that tracks and reports website traffic, currently as a platform inside the Google Marketing Platform brand. AudiologyDesign's website clients have a free tracking platform installed automatically, with no need to add Google Analytics unless desired.
Learn more at google.com/analytics
Google Search Console: Google Search Console helps with Search Engine Optimization (SEO). By using this tool, you'll be able to track issues related to your website in search, as well as help your site progress in rankings. All AudiologyDesign clients in our Premium SEO programs are enrolled in this by our team.
Learn more at search.google.com
One thing you won't see on this list is Google+. Google has ended its social media platform across the board. You can scratch that one off of your to-do list!
If you have any questions or would like to sign up for additional services that include AudiologyDesign managing these accounts for you, please reach out to your Account Manager or call 866-950-3571.